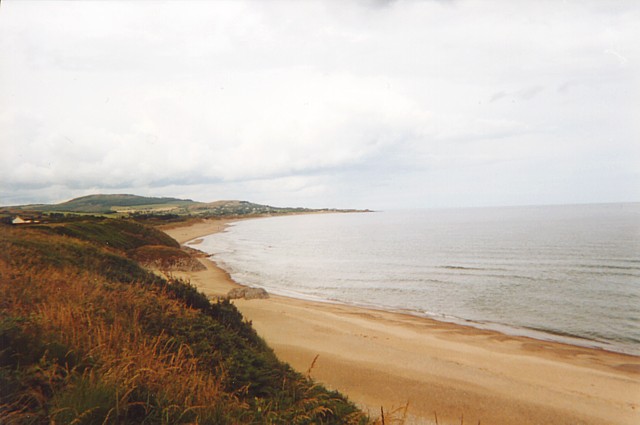 It was my dream to visit a beautiful beach as I love water and sand, once I went to a beach in Mumbai (India) but it was very dirty and I just ran from there. So on Thursday we decided to go for a day spent on a beach, it was a sunny day and weather was also good, so me and my husband as he was having holiday on Thursday from his work started from our home in Mullingar at around 9 o clock. We had our breakfast at home and packed some sandwiches and juice for the way.
First we went to Maynooth to our friend's house, there we had some tea and cookies and they also dressed up for the beach and we all started in our car for the Malahide beach. Their little son took all his toys to enjoy the sand on the beach.
Malahide is located on the east coast of Fingal, North county Dublin. It took around one and a half hour to reach us there. It was quiet busy as there was big rush of people on the beach as the day was very sunny and good for sun bath. Five of us reached we parked our car and went to the sand there we laid our mat on the sand and sat there, then we went to the water it was all clear blue water, kids were roaming here and there and playing in the sand, some people had also brought their dogs along with them, dogs were also running and playing in the water. There was cold breeze blowing along with the sun. I collected lots of sea shells from the coast; it was fun collecting them I picked lots of them of different shapes and colours. My husband and his friend went to bring some food and drinks from the shops nearby, meanwhile we were playing with the sand making sand castle with the kid. It was very enjoyable day. They brought some burgers, cold drinks, chips, biscuits and beer (men will be men) and we all had a lovely lunch on beach and just laid down and relaxed. Me and my husband took a walk along the water and enjoyed the cool breeze and the spectacular view of the sea. Some of the people were having boat rides to enjoy the view of the sea. People were just coming and going enjoying there share of sun and sand. It was a wonderful view of beautiful blue water and sand. I enjoyed a lot there and we also clicked lots of photographs on the beach. Then by 8 o clock we decided to go back home.
 Great for sea views, walks and a bit
You know a strange think in Ireland in summers the days are very long at 8 at night also it is just like day time. We all drove back to Maynooth there we had our dinner there at our friends house. My husband prepared yummy palak paneer at his friend home we also made some paranthas and had a lovely dinner there. After dinner we husband left for our home in Mullingar. We reached home by 12 o clock at night. We had a refreshing coffee at night and then went to bed. It was a memorable day for me as I enjoyed the beautiful beach with some lovely friends.
Looking forward for some more such visits.