Many people think of Amsterdam as a holiday haunt of those in their early twenties, who see the city as a Mecca for relaxed drug and sex industry laws – hardly the criteria for a family holiday. However, there is another side to Amsterdam that could make it the perfect place to head with the kids. I can vouch for this – a family holiday to Amsterdam when I was eight was one of the best we ever had. From canal cruises to history here's what to do.
What To See


Amsterdam has a rich history which stretches back to the thirteenth century. It started life as a humble fishing village, but from around the 15th century became a major centre for trade and culture. This past has left historic attractions all over the city, and these are one of the best places to visit as a family to get a real taste for life in Amsterdam.
The House Of Anne Frank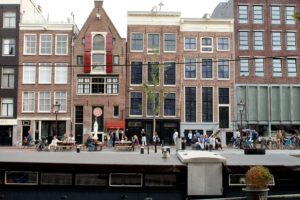 Visiting the house of Anne Frank is a distressing but thoroughly worthwhile venture, and a powerful way to teach children about the effect of the 2nd World War on ordinary Jewish people. After being subjected to persecution by German forces who invaded in May 1940, the Jewish Frank family went into hiding out of fear for their lives – a fear that was sadly realized when they were discovered and sent to the death camps. The experience was documented by Anne in her diary and the house was restored for visitors in the 1960s. As one of the must-sees for tourists the house is very busy, and buying tickets in advance is recommended.
The Royal Palace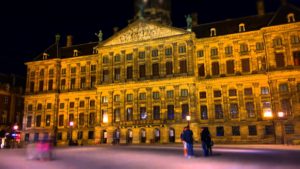 As one of three palaces still in use by the Dutch Royal Family, this is well worth a visit. The Palace started life in 1648 as the Town Hall. In 1808 King Louis Napoleon transformed the building into a palace in the French Empire style, and the remaining collection of Empire furniture is one of the best preserved in the world. The opulent interiors are open to the public for most of the year.
Westerkerk Church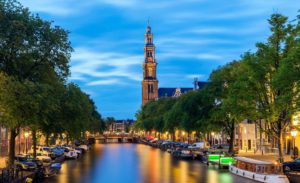 Built-in 1619 – 1631, the Westerkerk is the biggest church in Amsterdam. Its impressive tower has been witness to many significant moments in history, and its chimes soothed Anne Frank who mentioned it several times in her diary. Rembrandt van Rijn is buried in the Church as well as a number of other famous Dutch artists, and the former Queen Beatrix was married there in 1966. During the summer there is a summer concert series which is popular with tourists.
Activities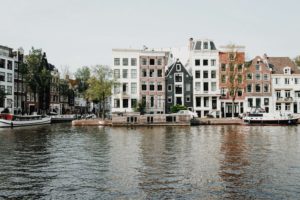 There are a number of activities and attractions in Amsterdam that kids will love. One of the most popular with families is The Amsterdam Dungeon which combines historical facts with entertainment. 500 years of scary history is enacted in 11 shows by 7 actors, and a visit includes a mirror labyrinth and a roller coaster. Be warned though the show is pretty dark so it won't be suitable for young children!
If you fancy something a bit tamer what's more Amsterdam than a bike tour? There are a number of companies that offer guided bike rides, and it's a great way to see the city and get some fresh air.
Alternatively, a boat trip down Amsterdam's famous canals is something that even families with small children can enjoy. Most tours in Amsterdam will take in some of Amsterdam's most famous sites viewable from the river, and some even offer dinner. Kids will love the Pancake boat that provides unlimited pancakes.
Food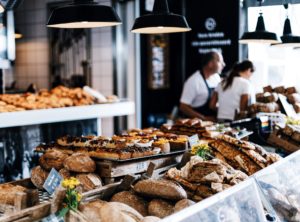 Amsterdam is a foodie's heaven and there are a large number of child-friendly restaurants. For lunch head to Café Giraf whose motto is 'we love coffee and kids' – perfect! They serve light food like soup and sandwiches, and the kids can burn off energy in a safe play area.
A unique choice is The Kinderkookkafé (Kids Cook Café) which is located near the Vondelpark. Here children aged 5-12 can get involved in helping to run the restaurant including cooking, serving, tidying up and running the cash register. Contact them to make a reservation if your kid's fancy being chefs for the day.
Where To Stay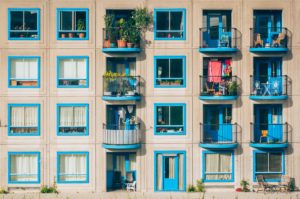 First things are first – find out exactly where the Red Light District is and then go nowhere near it. You don't want to accidentally wander into it with children, trust me. Unfortunately, the Red Light District is in the central canal belt, which is probably where you want to stay to be close to all the main attractions. However, don't panic as long as you know where it is you can avoid it, and it doesn't spill over into the rest of the centre.
Sites such as Hotelopia offer a variety of hotels in central Amsterdam many of which cater to families.
Thanks to its Red Light District Amsterdam has developed a reputation as a destination for booze-fuelled weekend breaks. However, it is, in fact, a city full of history and culture which can cater perfectly for families. With plenty to keep the kids occupied and many establishments catering to children, this could be the perfect place for a family break.