The holidays are long gone, and the new year is broken in. The next vacation you get to look forward to is Spring Break — which means you only have so many weeks left to go on your all-inclusive trip around the world. Does something sound wrong? Maybe it's the fact that your budget can't handle international globetrotting let alone a simple trip to the next state over.
You wouldn't be alone. When most Americans struggle to cover their immediate needs — sometimes relying on payday loans just to buy an essential air conditioner when the old one breaks — they aren't going to be spending thousands of dollars on a holiday.
Luckily, you don't have to drop the equivalent of a down payment to get the most out of your Spring Break. There are budget-friendly vacation ideas that can help you enjoy your time off work without sending you straight into debt. Keep reading to find simple yet effective ways to keep your holiday affordable with any kind of budget.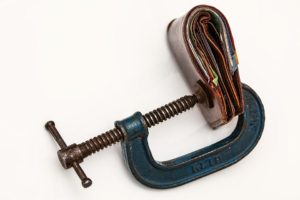 If your budget lets you jet set
While it's fun to imagine you're Taylor Swift who, after selling more than 10 million copies of 1984, is worth $280 million dollars and owns not one but two private jets, you share very little in common with the singer. (The one silver lining? You share none of her celebrity feuds). When you sit down to create a realistic travel plan you must take your head out of the clouds and remember you'll be riding coach on Spirit Airlines. But that's okay — there are still a lot of budget destinations you can afford. According to thrifty travelers, places like Mazatlan, Mexico, and San Juan are the top destinations for those who want to save as they sightsee.
If flights are out but you still want to leave your hometown
Sometimes the best vacations happen just around the corner so don't get hung up on the fact you can't afford a flight to sunny Mexico. The US is the birthplace of the road trip, so embrace your roots and plan a trip along Route 66. Just don't forget to pack your smartphone, equipped with two essential apps, before you hit the highways.
When the cost of gas seems like it goes up every day, GasBuddy can help you avoid spending all your trip money on fuel. It's an interactive app that lets nearly 2 million users update the cost of gas at specific pumps in any given city. When you make a profile, you can explore the map to find the lowest price per gallon in your area.
Waze is another great app for when you want to drive to your destination. You'll find it very similar to Google Maps. It charts all the roads, highways, and freeways in the country and offers GPS navigation to its users. How it differs is its community. Users can help update real-time traffic information to alert you to construction, accidents, and other obstructions that could slow or block your path. Besides saving your patience when you avoid a 40-minute delay, you'll also save on gas as you take the most efficient route to your destination.
If a staycation is all you can muster
You don't have to see a new state or country to have a successful holiday. A staycation can be a lot more relaxing because you get to avoid all the stress that comes with travel. The trick to enjoying your time at home is pretending you're a visitor. Explore your hometown as if you've never seen it before. Take to Google and look up local museums, art galleries, boutiques, and restaurants. You might just find something you've never heard of before, or you may remind yourself of a diner or gallery you've always meant to visit. Don't forget to research any hikes, free concerts, and special events, too.
When your best efforts fall short
Sometimes, despite trying to pinch pennies, you can end up spending Benjamins. A dinner there, an exhibition ticket here, and before you know it, you've spent more than you wanted. If your staycation ate into essential "just-in-case" savings, you might not have enough cash left over to cover an emergency, like repairing your furnace that suddenly stopped working.
If you suspect your fun during Spring Break will make it difficult to cover these surprises on your own, remember to learn about your online money borrowing options before you pack your bags. Online direct lenders make it easy to figure out what options are available wherever you have access to the Internet. It's a quick and easy chore to add to your pre-vacation to-do list. It also means you can apply as soon as you realize you need the help, even if that means it's from your hotel room.
Wait to apply until you do need assistance. Borrowing, though helpful, should be used as a last resort. First, try to make an infallible Spring Break budget, so you can afford the type of trip you take. If you aren't sure about to make one, use a guide like this one to help.
March can be a challenging time of year for those on a tight budget. It can seem like everyone around you is enjoying their break in the laps of luxury while you're stuck at home. Don't let your jealousy convince you to overspend. Take a vacation, but be resourceful. Make sure you plan the vacation you can handle, shaving off costs where you can, and you just might be surprised by the trip your budget can afford.