It was confirmed on Thursday that a summit between the US and Russian President, Donald Trump and Vladimir Putin will take place on 16th July in Helsinki, a capital city of Finland.
"They will meet on 16 July and discuss relations between the two countries and a range of national security issues", the Kremlin and White House said.
The Kremlin further added that the discussion would involve "prospects for the development of relations between the two countries and current international issues,"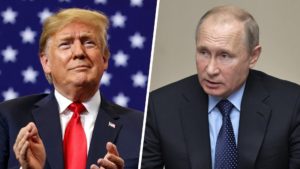 Syria and Ukraine might also be a topic of discussion. The pair has met twice before, firstly at the Group of 20 nations summit in Germany in July the previous year and second Asia-Pacific summit in Vietnam November 2017
Before the official announcement, the UK President Trump tweeted, "Russia continues to say they had nothing to do with meddling in our election!"
Russia continues to say they had nothing to do with Meddling in our Election! Where is the DNC Server, and why didn't Shady James Comey and the now disgraced FBI agents take and closely examine it? Why isn't Hillary/Russia being looked at? So many questions, so much corruption!

— Donald J. Trump (@realDonaldTrump) June 28, 2018
John R. Bolton an American attorney, a political commentator who met Putin on Tuesday in Moscow said to the reporters,"Both President Trump and President Putin feel that it's important for these two leaders of these two critically important countries to get together and discuss their mutual problems and areas of cooperation".
"It's something that I think both feels will contribute to improvements in the US-Russia bilateral relationship and instability around the world." he further added.
The meeting would take place after a busy schedule of six days for Trump in Europe. NATO summit will take place in Brussels on 11th and 12th July, followed by a visit to the United Kingdom on July 13.
The meet is said to resolve various issues among the two countries and derives a ray of hope for the citizens of both the countries on the issues sustaining in the economy pertaining to which the meet is organised.